Please note I will be talking about something that is very personal about my life and that people may or may not agree with. I please ask everyone to remain respectful about my opinions/decisions in my life.

Let me just say that Richelle Mead has done it AGAIN. Despite the fact that we only have one of the three books in this Glittering Court series, you can very clearly see just how intricately Richelle has woven three story lines together without revealing too much detail that will keep you from wanting to read the other books. 
We have seen Richelle's forbidden love stories, and her badass girls who kick butt and now we get to see all that and more. 
Warning! There will be spoilers!
The Glittering Court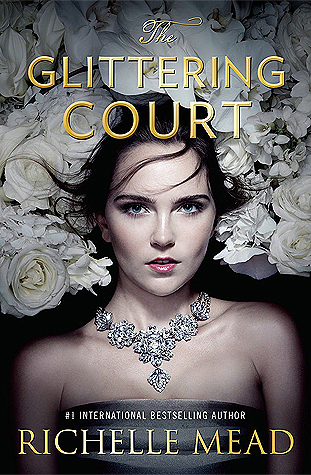 Published April 5th, 2016
Page Count: 400 
"Big and sweeping, spanning from the refined palaces of Osfrid to the gold dust and untamed forests of Adoria, 
The Glittering Court
 tells the story of Adelaide, an Osfridian countess who poses as her servant to escape an arranged marriage and start a new life in Adoria, the New World. But to do that, she must join the Glittering Court.
Both a school and a business venture, the Glittering Court is designed to transform impoverished girls into upper-class ladies who appear destined for powerful and wealthy marriages in the New World. Adelaide naturally excels in her training, and even makes a few friends: the fiery former laundress Tamsin and the beautiful Sirminican refugee Mira. She manages to keep her true identity hidden from all but one: the intriguing Cedric Thorn, son of the wealthy proprietor of the Glittering Court.
When Adelaide discovers that Cedric is hiding a dangerous secret of his own, together they hatch a scheme to make the best of Adelaide's deception. Complications soon arise—first as they cross the treacherous seas from Osfrid to Adoria, and then when Adelaide catches the attention of a powerful governor.
But no complication will prove quite as daunting as the potent attraction simmering between Adelaide and Cedric. An attraction that, if acted on, would scandalize the Glittering Court and make them both outcasts in wild, vastly uncharted lands…"
When I first began this book, I told myself that I knew exactly how this book was gonna go. Adelaide and Cedric were gonna fall in love. Adelaide would feel like it is her duty to marry one of the suitors presented to her by her participation in the Glittering Court. She would struggle between love and doing what her contract tells her to do. And then in the end, right at her wedding, Cedric would march in and declare his undying love to her. Right? WRONG.

This book took such an unexpected turn when they were both discovered in the attic by Clara. To see her decline from all the wealth and riches to having to pan gold in order to pay off her marriage contract with Cedric while still pretending to be a commoner and having the threat of Violet's ultimatum over her head. I honestly expected that Violet was the only evil person here and despite the fact that something was just off with Warren, I never thought he would turn out to be the ultimate evil guy.

The entire feud between the devotees of Uros vs Alanzans was also extremely fascinating because I feel like it is something that is extremely relevant today where freedom of speech and religion are such an important and integrated part of our culture and that one should not be so quick to judge a religion by just what outward appearances show. I also find myself getting a lot of hate and criticism from people whenever I tell them that I am a Christian, when actually they don't know anything about me and I feel like this was also shown greatly when Cedric is revealed to be an Alanzan (which was another MAJOR PLOT TWIST for me). What I also really liked was that although I had a lot of sympathy for the Alanzan's and wanted them to be free to practice their faith, I also liked how Richelle included that little bit of detail that the Alanzan's themselves consider the Uros believers to be a threat as well. This really also shows that no matter which religion you look at, be it Christianity, Islam, Judaism, Buddhism you will always find bigoted, judgmental people and we must beware of that.

Adelaide and Cedric were just so cute together. I swear I cried so much when they finally had their secret Alanzan wedding.
Which also brings me to something very personal and important I would like to mention.

What I found very respectable of Richelle for writing and something that really spoke to me was the fact that Ada and Cedric both wanted to wait until they got married before having sex. That is not to say that I condemn anyone who does decide to go for it before their wedding night. I myself have decided to wait until I'm married (this has been a decision made separately to my faith) and I related so much to Ada and Cedric.
These days, people who decide to wait are seen as prudes, uptight, weird, shy, forced into this decision or narrow minded when that is far from being true for everyone. When someone has made a conscious and personal decision like that it's not (or should not be) about any of those factors but about something that you hold valuable and want to honor for yourself and your future spouse. It was nice to see that even a badass, snarky, open-minded girl like Ada can still hold to such values (I feel like my personality overlaps quite a bit with hers as well) and I hope that when people read this they will think twice before judging someone who has decide to save themselves.

I am honest to God just so intrigued about the full story surrounding Mira and Tamsin. Of course, some of the details have already been revealed at the end but there are just so many gaping holes that I need filled now. When Tamsin finally revealed to Ada the reason what was at stake for her, I was ready to kill Richelle for not actually telling us readers (just kidding Richelle!) but I guess that is just a part of having intertwining stories. I am just so curious!!
Seriously, does anyone know when the next book will come out? I don't see a release date yet (*sobs*).