Amber Smoke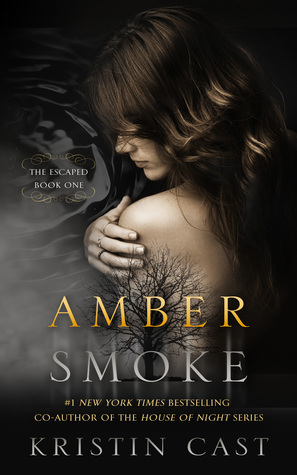 Published: June 9th, 2015

Page Count: 275

"There is a world that runs parallel to our own, a world in which the souls of the damned are caged, where they are looked over by the Furies, and where they spend eternity in torment, mirroring the devastation and mayhem they created when alive.

Someone has opened the cage.

The worst of terrors has crossed the barrier that separates our world from theirs, and the Furies send a great, albeit untested warrior—their only son, Alek—to try to bring those souls back. He is young and handsome, headstrong and impulsive, and he won't be able to do it alone. 

Eva has grown up, beautiful and beloved, but surrounded by secrets. First, she will be hunted in an ancient feud that will threaten her life. Then, she will become the hunter.

With the police closing in and two worlds on the verge of crumbling around them, Alek and Eva must find each other, discover the limits of their powers, and work together to save everything they hold dear, including one another. Blending elements of mythology with the dazzling storytelling that her fans have devoured through the House of Night series, Kristin Cast weaves a spellbinding and passionate tale that starts a thrilling new series with an explosive charge."
3.75 stars
A big thank you to NetGalley and Division books for sending me a free copy of this book
The first thing that stood out to me as I began this book is that Kristin Cast has definitely made her own way when it comes to writing. Comparing the writing style to that of the House of Night books, you can see a vast improvement when it comes to style, dialogue and descriptive paragraphs. 
The entire world that was based off of Greek mythology completely drew me in and fascinated me. I know that certain people had some time getting used to the multiple points of views and the world-building and I felt like I jumped into it pretty easily and eagerly. 
The story begins with the tale of the three furies: Maiden, Mother and Crone. They are living (somewhat) peacefully in Tartarus, the Greek Underworld until Maiden falls in love with a lost soul who willingly chose to suffer for an eternity to save his son. This ends up tipping the balance of power in Tartarus, and sets loose a curse, enabling evil creatures who should have been locked up forever to escape. 
In order to restore peace and balance to the Underworld, Maiden is allowed to bear a son, Alek, who together with the Oracle will save the world. The only problem is, the Oracle will die and Alek must reach her in time to set her magic free. 
This bring us to Eva. Beautiful, young and carefree, living with her mother and does not at all realize what is going on. Until she gets kidnapped by whom she believes to be her mother's boyfriend. Little does she know that this is in fact one of the evil escaped who will end up killing her.
The entire story is split into four different POV's: Maiden, Alek, Eva and a detective who has been assigned the case of a few murders. I feel like this completed the story very well, giving us a lot to think about and threw the readers off quite a bit as to who the evil kidnapper actually was (for a while I believed him to actually be Alek). 
I thought the romance-y stuff between Eva and Alek were sweet, but I also hope for more of a development on that note, since they have only just met and Eva will need some time adjusting to her new life (what better way of doing that then having a cutie by her side?).
The reason why I only gave this book 3,75 stars despite the fact that I loved it very much was that we didn't really learn too much about Eva herself. Being the main character, I would have loved to know a bit more about her history (her life, what happened with her father) and just her general character traits weren't really given a time to shine as much as I had hoped (mainly due to the fact that she was kidnapped for the majority of the book). The book itself also was a bit slow to begin with. However, I am sure that the second book will satisfy all the questions that are still churning around in my head.
I also really hope that we see more of Eva's grandmother! 
Also, did anyone else find that reference to the House of Night books super awesome (the ones with the LARP video?)
"Warrior, the belief in oneself is more powerful a tool than the broadest of prayers."

"Eva, descendant of the great Oracle Pythia, I will find you. I will save you. Together, we will restore my home and rid this realm of evil."

"The students shooting a video had crescent moon tattoos painted on their faces and were sneaking around campus trying to be vampires."

"A great magic in you. Don't let anyone steal your power. The power make you unique. Now, you sleep."

"Wind carries the truth. Seek, listen, know with your soul. Look within, stay strong."

"Without you, our worlds are lost."