While I still very much prefer the Vampire Academy series over Bloodlines, it is still one of my favorite book series of all time. It's so fascinating to see Richelle delve into a part of the vampire world that we haven't seen before, introducing us to different kinds of forbidden romances and magic. For all Vampire Academy fans who are wary about reading it, DO IT. It is worth every page and you won't regret it 🙂 

Warning! There will be spoilers!
Silver Shadows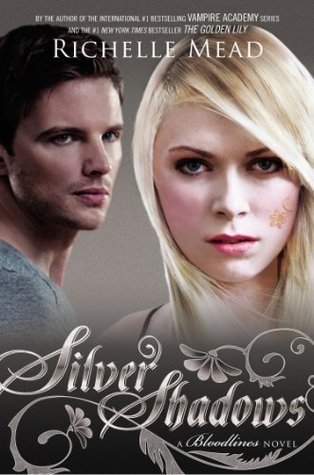 Published: June 29th, 2014

Page Count: 380
"In The Fiery Heart, Sydney risked everything to follow her gut, walking a dangerous line to keep her feelings hidden from the Alchemists.

Now in the aftermath of an event that ripped their world apart, Sydney and Adrian struggle to pick up the pieces and find their way back to each other. But first, they have to survive. 

For Sydney, trapped and surrounded by adversaries, life becomes a daily struggle to hold on to her identity and the memories of those she loves. Meanwhile, Adrian clings to hope in the face of those who tell him Sydney is a lost cause, but the battle proves daunting as old demons and new temptations begin to seize hold of him. . . .

Their worst fears now a chilling reality, Sydney and Adrian face their darkest hour in this heart-pounding fifth installment in the New York Times bestselling Bloodlines series, where all bets are off."



Silver Shadows is definitely my absolute favorite book in the Bloodlines series. The change of scenery (especially the Moroi Court), the switch up between POV's as well as just the general intrigue of the Alchemist re-education center was really refreshing to read about after having the other five books located in Palm Springs. 
The first thing that instantly makes this book stand out from all of the others is the sudden painful realization that the reader experiences as they realize just how evil the Alchemists really can be. In the last five books the Alchemists and the threat that they posed towards Sydney were slightly unnerving, no doubt. But it isn't until she is forced to go through the physical and mental torture that they make her endure that we really get to see just how dangerous they are. It really is agonizing to read about Sydney getting purged and shamed for what she did by some twisted dogmas but she showed incredible strength during those hard times and that is what makes her admirable. She might not be strong physically like Rose is, but she has a different kind of strength within her. 
Adrian also goes through one of the most life altering experiences during this time period as he struggles to survive without Sydney. What I actually found nice was the fact that the change within him wasn't shown as being immediate. He drank and partied and lost his way for quite a while, and I think it was important for us as readers to see that. 
For all of his life, Adrian has lived a comfortable life, never truly pursuing things that he wanted or were good for him and always hiding and drinking away his problems. It would have seemed unrealistic if suddenly Sydney's disappearance sprung him into action, molding him into the person he was meant to be. The two of them shaped one another for the better in so many ways, but I think this last step was meant to be taken by Adrian himself. As readers, we get the firsthand experience of seeing Adrian coming to his senses and finally, finally pouring his determination and inner strength on saving Sydney.  
"What is it with you and girls, Adrian, dear? Why do they either mean nothing to you or everything? It's always an extreme." 
"Because I don't do things in halves, mom. Especially when it comes to love."
Richelle also managed to make Sydney and Adrian's escape to Las Vegas both incredibly tense and romantic at the same time, with the Alchemist's presence a constant threat. The wedding that Adrian managed to put together at the last minute made me cry so much and although they are extremely young, and although their wedding was done due to dire circumstances, I know without a doubt that it was the most right and real thing that they ever did. It was perfection. 

"Sydney Katherine Sage," he said, his green eyes full of love and earnestness. "Would you do a brooding, deadbeat Moroi the honor of being his wife?" 
"Until now, you have always lived your life alone. Every decision you've made has been for you and you alone. Now, and for the rest of your days, your life will be tied to another's. Every decision you make will be for both of you. What one does affects the other. You are a family, a team … inseparable and unbreakable." 
Other Favorite Quotes:
"Are you in a suit?' I managed at last, my voice choking up. 'You didn't have to dress up for me.' 
'Quiet, Sage,' he said. 'I'll make the hilarious one-liners during this daring rescue." 
"Dad," I said quietly, "I've always made it a rule in my life not to pick fights with children, cute animals, or ignorant old men. I will, however, make an exception for you if you ever touch or insult my wife again." 
"I know what love is, Mom. I've had love that burns in every fiber of my being, that drives me to be a better person and empowers me through each moment of the day. If you'd ever had something like that, you'd hold on to it with every bit of strength you had."
"Sanity's overated, my darling."